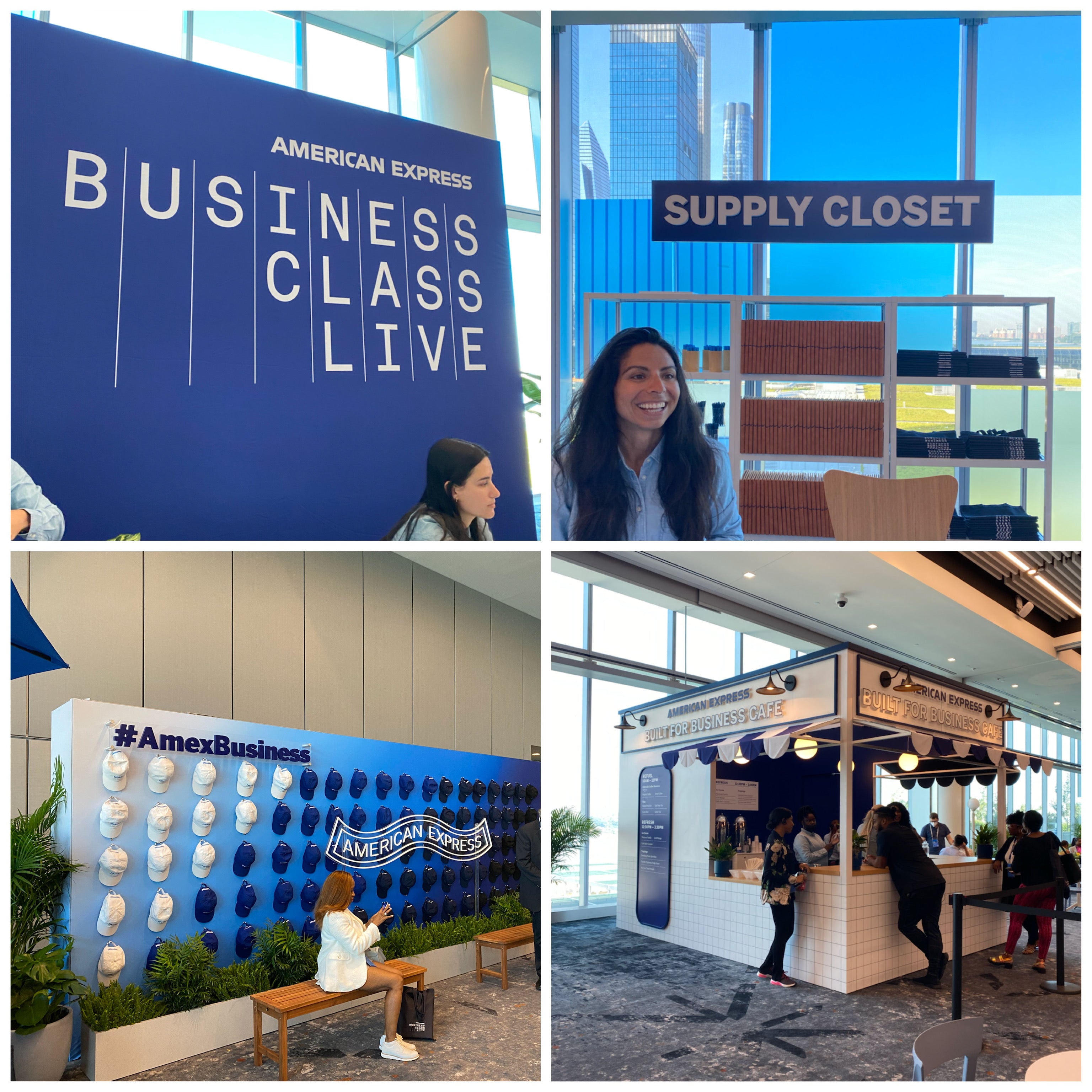 How American Express is Helping Small Businesses in 2022
American Express hosted one of the biggest networking events this week at the Javits Center in New York City. Amex Business Class Live was a curated experience for small business owners, filled with guest speakers, workshops, small business resources, networking opportunities, and lots of free giveaways. Let me not forget to mention the five star food!
This year was the first time, since the start of the pandemic, that Business Class Live was held in person, and they did not disappoint.
Although the event is in its 10th year, they pulled out all the stops like a first date trying to make a good impression.
The event started bright and early at 9am with a warm welcome from American Express' Executive Vice President of Global B2B Marketing, Clayton Ruebensaal. Ruebensaal shared his sentiments about small businesses and the relationship American Express has fostered over the years with entrepreneurs, "American Express has a long legacy of supporting small businesses – we have relationships with so many of them and can truly understand what they need to have more good days, but more importantly, what they need to navigate the more challenging days."
After the welcome remarks came the moment we all were waiting for. The one and only Issa Rae came to the stage. She shared an immense amount of wisdom and insight into the challenges she faced starting her company and spoke about the struggle of wearing many hats as small business owner. She also discussed the importance of balance and taking breaks. When you wear many hats as a small business owner, you rarely get to take time off. Issa said she "works in procrastination into her life". Who thought that was possible while making it to the top? Its a huge misconception that people need to burn the candle at both ends to succeed. When in reality, you need to give yourself grace while being true to yourself. Only you know what works best for you.
Business Class Live
The sessions were broken down into four categories:
(1) Cashflow Management,
(2) Marketing Strategies,
(3) Contracting Opportunities, and
(4) Workplace Wellness.
I was mostly interested in the marketing strategies sessions.
The first session was titled "Where we are, where we're going: strategies for brands to show up during major shifts" by Alain Sylvain. Sadly, I was unimpressed by this session. It was short and the information didn't hit home. I gave this session a 4/10.
Fortunately Google made up for the shortcoming of session one with the next session titled "How to drive sales with e-commerce" by Angelina Darrisaw from Grown with Google. Angelina did her thing! She shared a wealth of knowledge about opening up your online store, SEO, and marketing your online business through Google. I gave this session a solid 7/10.
I had to jump on a call, so I unfortunately missed the session titled "Shaping your brands presence to meet the moment".
The last marketing session for the day was hosted by none other than Mrs. Lauren Maillian, the CEO of Digital Undivided. Her session was titled "How to reach niche audiences with targeted marketing". Clearly Shari's Tea customers are as niche as they come. Our customers are (1) people who appreciate good loose leaf tea and (2) always on the go. Therefore, I felt like I benefited the most from this session.
The day ended around 4pm with a final session on the main stage by Jay Shetty titled "Thriving in the new normal", followed by closing remarks and a performance by the cast of the Broadway Show Freestyle Love Supreme. If you haven't seen that show, do yourself a favor and go! It was created by Lin Manuel Miranda, need I say more?
After grabbing a drink at the cocktail reception and heading home, I looked back at what an amazing day I had. A day filled with knowledge sharing, networking, and overall fun. Shari's Tea will definitely be attending the 11th annual Amex Business Class Live next year.
-Cheers